They will be airing an agriculture special edition on Brian Curless and his recent Championship title. This will be broadcasted This weekend 7/23/17
<![if !supportLists]> - <![endif]> Sunday on My 59 WAOE @ 5-6am
<![if !supportLists]> - <![endif]> RFD TV on This Week in Agribusness
<![if !supportLists]> - <![endif]> Saturday @ 7am
<![if !supportLists]> - <![endif]> Sunday 5am
<![if !supportLists]> - <![endif]> Sunday 5pm
NO SALE DATE-- JULY 27, THURS H
elp us spread the word about this 'NO SALE' date.
UPCOMING SPECIAL SALE DATES AS FOLLOWS:
MARK YOUR CALENDARS!!!
Cow Sales:
Tuesday, September 5 (subject to change), 5 p.m.
Tuesday, October 3, 5 p.m.
Tuesday, November 7, 5 p.m.
Tuesday, December 5, 5 p.m.
2018
Tuesday, January 9, 5 p.m.
Saturday, January 27, Special Cow sale featuring Kocher Bred Heifers and other young cows
Tuesday, February 6, 5 p.m.
Tuesday, March 6, 5 p.m.
Tuesday, April 3, 5 p.m.
Tuesday, May 1, 5 p.m.
Tuesday, June 5, Pending, 5 p.m.
Special Feeder Sales:
Thursday, August 17, Wean-Vac, noon
**
Thursday, September 21, Wean-Vac, noon
**
Thursday, October 19, no restrictions, noon
Thursday, November 2, no restrictions, noon
Saturday, November 11, CAB Sale, noon
**
Thursday, November 30, no restrictions, noon
Thursday, December 14, Wean-Vac, noon
**
2018
Saturday, January 6, CAB sale, noon
**
Saturday, January 13, Wean-Vac, noon
**
Thursday, January 18, no restrictions, noon
Thursday, February 1, no restrictions, noon
Thursday, February 15, Wean-Vac, noon
**
Thursday, March 8, no restrictions, noon
Thursday, March 22, Wean-Vac, noon
**
Thursday, April 5, Wean-Vac Back to Grazing Sale, noon
**
Thursday, April 19, no restrictions, noon
Thursday, May 10, no restrictions, noon
Thursday, June 14, no restrictions noon
Brian Won!!!! He is the 2017 world champion auctioneer and will travel for and represent the Livest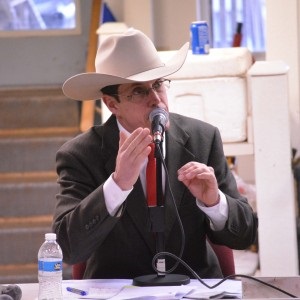 ock Marketing Association for the next year. Many, many congrats to someone who we have always considererd to be a Champ.
7-12-17 Market Overview
1157 cattle showed up this week even though conditions were a little tough with the rain, storms, and mud on Monday, then a high heat index on Wednesday. Luckily, we caught a huge break for both the Tuesday and Thursday sales as conditions were ideal. The run this week was a very good one for July. The overall market trend indicates somewhat of a contradiction between fed cattle and replacement figures. With live and feeder cattle futures prices gyrating all over the place on the board, giving a little ray of hope one day, then taking it away and then some the next, it's surprising to see so much optimism in the feeder trade at the sale barns.
247 Fed Cattle sold. USDA quoted prices at $4.00 to $5.00 lower. This was expected as the board continues its downward slide, but fortunately the cash market continues to out-pace the futures. The choice/select spread still hangs in the $15 range refusing to narrow. Therefore, cattle hitting the market now need to be completely finished to bring near the top. Things appear to be pretty current around here as reflected by the number of cattle coming to market having very marginal finish. This week's top for a few was $123.75 compared to $126.75 at the last sale two weeks ago.
Choice 2-4 brought from $118.50 to $121.00 with high yielding at $121.00 to $123.75 and low yielding, several of which were morning cattle, selling from $114.00 to $118.00. Mixed select and choice 2-3 traded from $115.00 to $117.25 and select 1-2 were $115.00 and down. A few heiferettes appearing to push the 30 months of age limit brought from $103.00 to $115.00.
114 Slaughter Cows went to the packers and traded about steady. The high yielding premium whites ranged from $98.50 to $107.50 with average yield at $80.00 to $93.00. Breakers sold from $75.00 to $79.50 for the best, average yield brought $70.50 to $74.00, and the rest traded at the $69.00 figure and down. Boner grade brought $75.00 to $79.00 for the top end, $70.50 to $74.50 for the average with the rest at $70.00 and down. Lean cutters had the best yielders in the $70.50 to $76.50 range, average yield at $66.00 to $69.50 with the rest at $65.00 and down.
19 Slaughter Bulls sold and the high yielding mature ones were in the $97.00 to $100.00 slot, average yielding sold from $90.00 to $96.00, and the rest $89.00 and down.
735 feeder cattle were offered to a very receptive crowd. The quality was very good and buyers were eager to participate. Most of the run weighed above 600#. The few better 5-wt steers offered brought from $165.00 to $177.00 with heifer mates from $150.00 to $164.50. 6-wt steers sold from $150.00 to $169.00 for the best and like heifers went from $148.00 to $161.00. 7-wts, by far the weight bracket with the most cattle, saw steers bring from $150.00 to $169.00 and heifers at $142.00 to $151.00. A few 8 and 9 weight steers brought from $145.00 to $151.00.
5 load lots or near load lots of steers (704#-$165.50) (717#-$165.00) (778#-$158.50) (871#-$151.00) (951#-$145.00)
3 load lots of heifers (660#-$154.75) (745#-$150.50) (775#-$151.00)
The next feeder sale will be Thursday, August 17
We will have no sale in Fairview on Thursday, July 27. That is Fulton County Fair week and several of the sale barn staff are involved in one way or another. So---No sale July 27.
Log onto www.lmaauctions.com Then, click on "create account". You will need to create your account, Fill out the first time user information, creating an ID and password that you create.Then, you will use your ID and password each time you want to watch our sales. If you have any questions, please call the Fairview Sale Barn, 309-778-2225.
Well, I have officially become an author as my book has been published. Laura is strictly in charge of marketing books locally. It is now available in hundreds of outlets including Barnes and Noble, Ingram, Amazon, and Kindle. Here is the direct link to purchase a book on line:
http://www.friesenpress.com/…/Bob-Fidler-Alone-But-Never-Lo…
"Alone But Never Lonely"
By Bob Fidler
The publisher and my niece, Lori Long, have developed a web page, www.authorbobfidler.com, to promote the newly published book. Not only does it contain information about the book, it has photos of the subject's home on Great Slave Lake along with his sled dogs.There are also several mood pictures of summer scenes on the tundra of the Northwest Territories of Canada taken by me while canoeing in the very region he trapped.
Laura has a new supply of books available at the sale barn available for purchase.
Alone But Never Lonely
by Bob Fidler
Gus D'Aoust (1897-1990) was a legend, an icon of the Northwest Territories. He was a well-known adventurer, explorer, hunter, and above all, a dedicated and passionate Barren Land trapper. In this inhospitable environment beyond the tree line, he lived his life doing what he loved. His endeavors came near the end of the late, great fur trading era when white trappers stretched across the Tundra for hundreds of miles. This is his story including labors, hardships, philosophy, and other life events and experiences as told by him to the author in 1973.
Bob Fidler, teacher (now retired), enjoyed many years of Canadian canoe tripping throughout Ontario and parts of the Northwest Territories. Born into a family of outdoorsmen with hunting and fishing a way of life, it was so easy and natural for him to become absorbed in the life of the subject.