UPCOMING SPECIAL SALES AS FOLLOWS:
Mar. 2, Thurs. – Special Feeder Sale, Noon
Mar. 4, Saturday - Hobbs/Eathington Angus Bull & Female Sale - 1 pm
Mar. 7, Tues - Cow Sale, 5 p.m.
Mar. 16, Thurs. – Special Feeder Sale, Noon
Mar. 30, Thurs – Wean-Vac Special*, Noon
-- Andy White, Ashland, OH will be guest auctioneer. He is the LMA World Champion Auctioneer, crowned in Paris, KY last June.
April 4, Tues. - Cow Sale, 5 p.m. -- featuring Double J Farms (Ray Johnson), Kiesewetter Angus/Cross Creek Farms (click for further information) breeding bulls
April 6, Thurs. - Easter Lamb Special -- all weights
April 13, Thurs. – Wean-Vac Special*, Noon
April 27, Thurs. – Special Feeder Sale, Noon
Log onto www.lmaauctions.com Then, click on "create account". You will need to create your account, Fill out the first time user information, creating an ID and password that you create.Then, you will use your ID and password each time you want to watch our sales. If you have any questions, please call the Fairview Sale Barn, 309-778-2225.
Well, I have officially become an author as my book has been published. Laura is strictly in charge of marketing books locally. It is now available in hundreds of outlets including Barnes and Noble, Ingram, Amazon, and Kindle. Here is the direct link to purchase a book on line:
http://www.friesenpress.com/…/Bob-Fidler-Alone-But-Never-Lo…
"Alone But Never Lonely"
By Bob Fidler
The publisher and my niece, Lori Long, have developed a web page, www.authorbobfidler.com, to promote the newly published book. Not only does it contain information about the book, it has photos of the subject's home on Great Slave Lake along with his sled dogs.There are also several mood pictures of summer scenes on the tundra of the Northwest Territories of Canada taken by me while canoeing in the very region he trapped.
Laura has a new supply of books available at the sale barn available for purchase.
Alone But Never Lonely
by Bob Fidler
Gus D'Aoust (1897-1990) was a legend, an icon of the Northwest Territories. He was a well-known adventurer, explorer, hunter, and above all, a dedicated and passionate Barren Land trapper. In this inhospitable environment beyond the tree line, he lived his life doing what he loved. His endeavors came near the end of the late, great fur trading era when white trappers stretched across the Tundra for hundreds of miles. This is his story including labors, hardships, philosophy, and other life events and experiences as told by him to the author in 1973.
Bob Fidler, teacher (now retired), enjoyed many years of Canadian canoe tripping throughout Ontario and parts of the Northwest Territories. Born into a family of outdoorsmen with hunting and fishing a way of life, it was so easy and natural for him to become absorbed in the life of the subject.
Sketch by Robin Ewalt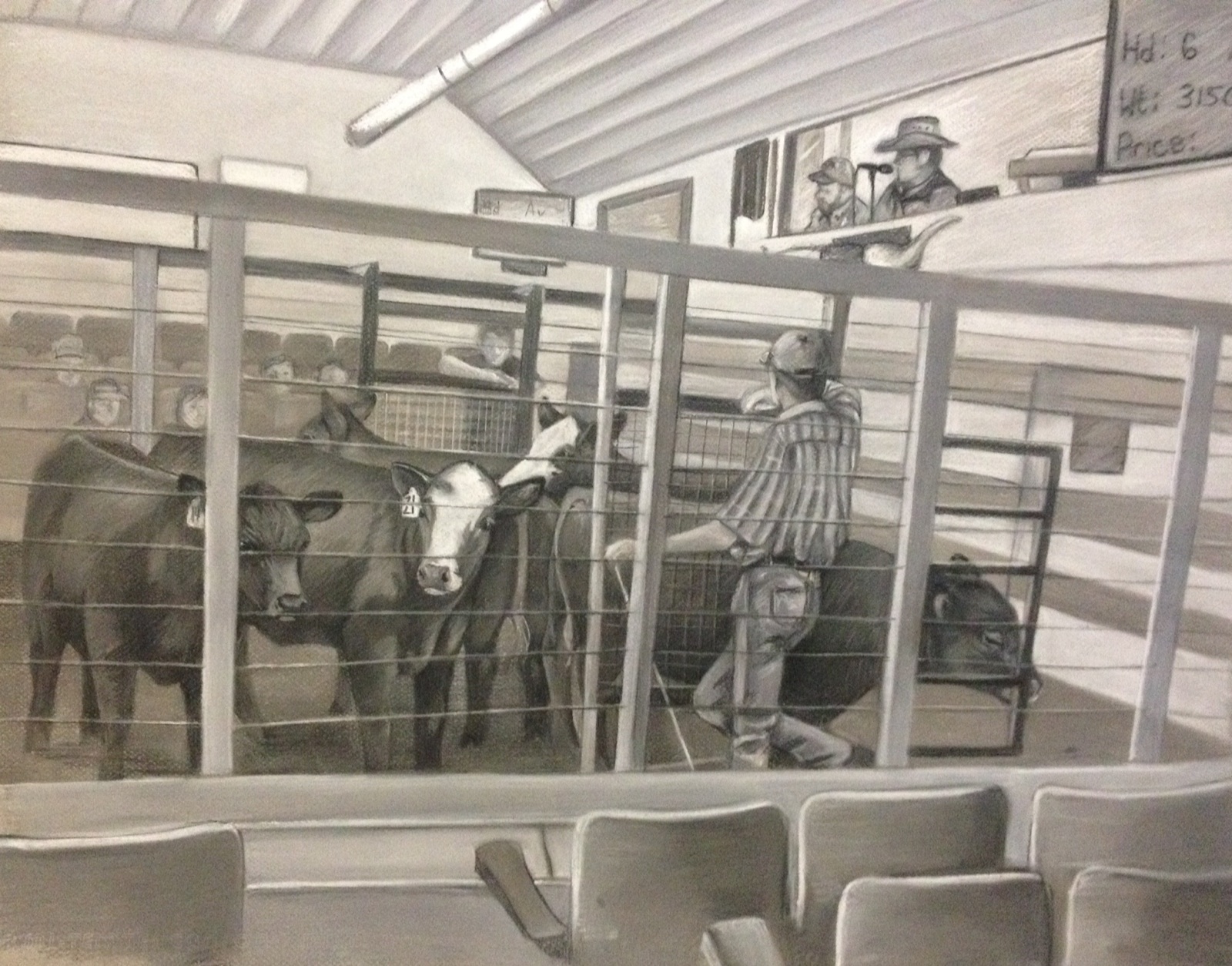 Tuesday Sales - "Packer Day"
10:00 a.m. - Fed Cattle, Cull Cows & Slaughter Bulls
Bred Cow Sales will resume in November
Thursday Sales
10:30 a.m. - Hay Auction and related Farm Items Noon - Sheep, Goats, Cattle
Fairview Sale Barn
1120 Carter St.
Fairview, IL 61432
309-778-2225